Double Pug Switch
We have been involved Double Pug Switch since 2018 and have helped with elements of development and are now responsible for porting and publishing the game to Nintendo Switch, Xbox One and PlayStation 4!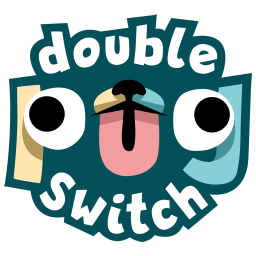 Two pugs are better than one!
Stylised and challenging platformer putting you in control of a mischievous dog with a unique dimension-swapping power! Challenge yourself with side-scrolling alternative dimension switching mania requiring lightning quick reflexes to jump, hop, and dimension swap your way to victory. Whether you're a seasoned platformer or just can't get enough of pugs, Double Pug Switch has something for you!
Challenging gameplay
Double Pug Switch is made up multiple worlds and also a bonus world to really test players skills. Each world introduces a new challenges and obstacles to navigate in this fast paced platformer.
Exciting power-ups
As you adventure through the different levels you will encounter a range of power ups that allow you to explore new areas of the levels and to help collect those mysterious purple coins!
Unlock fabulous headwear
Once you have collect enough gold and purple coins you will be able to visit the hat shop and purchase a range of crazy and wild headwear that range from multi-coloured wigs to T-Rex heads!
Games modes
Complete levels
Each level will bring a new challenge with new obstacles and power ups. Make sure to pass the checkpoints incase something unfortunate happens to you!
Collect coins
In each level there will be lots of gold coins and also a select few purple coins. The purple coins can be in hard to reach places but if you find them they will allow you to purchase rare hats.
Boss battles
At the end of each world the evil Sker will appear with a new contraption to challenge your skill levels to the max!